The Bluegrass & BBQ Fall Festival
In the life of Emory Presbyterian Church, there is no event which is nearer and dearer to the heart of our community as our annual Bluegrass & BBQ Fall Festival, held on the last Saturday of September every year on the church lawn from 12 noon to 4 pm. Featuring bluegrass music provided by member bands of the Southeastern Bluegrass Association and delicious barbecue prepared by own EPC master chefs, the Fall Festival is a much-anticipated event that is open to the community and welcomes all.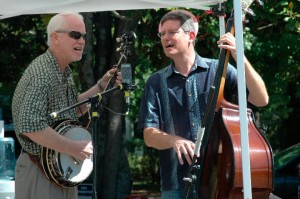 Annual Church Retreat
Every year, usually in August, Emory Church holds its Church-wide Retreat – an opportunity to make new friends and renew and deepen long-time friendships, while strengthening our commitment to God. Each year features a quality program with the promise of spiritual growth, plus outdoor fun and great food and fellowship!
Summer Porch Parties
It is a long-standing EPC tradition to hold "Porch Parties" in the summer! Each month from June to August, an EPC family opens its home for a delightful evening of fun and fellowship, starting at 6:30 pm and featuring a delicious "Pot Luck" supper. Guests are always welcome!