Member Spotlight … Meet Betsy Thompson!
In 1957 I moved to Druid Hills with my husband, Hal, and two small children, Lilabet and Britt. We moved into a house on Edinburgh Terrace, only two blocks from Emory Presbyterian Church. Since I had grown up in a Presbyterian Church in New Jersey and came from a family of Presbyterians going back many generations, I hoped to join a Presbyterian Church in Atlanta. It seemed very fortunate that there was one so close by. Also at least eight houses on Edinburgh Terrace were occupied by members of EPC while we lived there. It was truly Presbyterian Row! My husband had grown up in a Methodist family but he was willing to become a Presbyterian, so we joined Emory Presbyterian. We were both involved in various activities in the church and the children enjoyed Sunday School and Summer Bible School. We soon added one more child to the family, Molly. At the age of twelve, Molly became a Methodist. This happened, primarily I think, because at the time, the Southern Presbyterian Church did not allow money raising events such as car washes. This policy changed when the Northern and Southern Churches combined. Molly really enjoyed these activities and she had a good friend at North Decatur Methodist.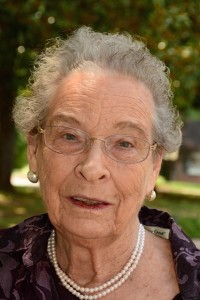 After my children grew up and married, Lilabet and her husband Bill became active members of Emory. My son, Britt, moved to Alabama and Molly and her husband, Ken, are members of North Decatur Methodist. Because Lilabet and Bill are here every Sunday, I get to spend more time with them. One interesting result of this connection is that Lilabet and Bill and Molly and Ken and their respective churches have joined together for the past several years to head up a project repairing a house for an elderly owner in Decatur on MLK weekend. It is a wonderful and worthwhile experience for all of them.
I have enjoyed my many years at Emory and I am thankful for having the church and my friends here.
Member Spotlight … Meet Kathryn Hornsby!
I started attending EPC during Lent in 1997. As I had visited numerous churches, it was a pleasure to stumble upon this lovely friendly church. I enjoyed the excellent music and the enthusiastic energy of our former pastor, Joe Crawford. I was also incredibly drawn to EPC's church covenant because of its outward mission focus and inclusive language. I knew when I read the church covenant that I had found the church for me.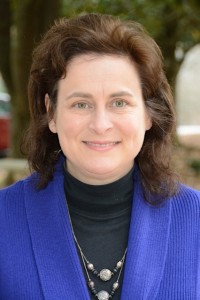 Over the years EPC has been the steady constant in my life. During the past 18 years, I have worked full-time, attended graduate school, and even managed a stint or two on the session. My church family's support was never more important than during my Dad's illness/death.
I greatly enjoy being a part of the Presbyterian Women's Night Circle started by Libba Pendergrast. We meet monthly for supper, bible study, prayer, and lively conversation.
I continue to strongly believe that a church should be outwardly community focused (let's go back to our church covenant!) and what better way is there to do outreach than by participating in mission projects. As chair of the mission committee for the last few years, I get the joy of helping make this happen along with some of EPC's best "movers and shakers." When life gets stressful (and it SO does) it is incredibly easy for all of us to become more inwardly focused, but I have found the best thing for me is to participate in an activity focused on others that causes me to stretch a little out of my comfort zone.
The journey is never easy, but I am glad to be part of this church family.
Member Spotlight … Meet the Butkers!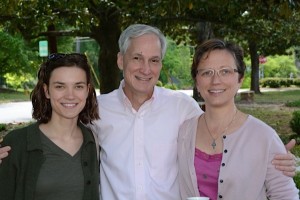 Alice and Bennett Butker first went to Emory Presbyterian church in 1988 for Wednesday Night Supper at the invitation of a close family friend, Susan Mitchell. At the time, Bennett and Alice were pregnant with their second child, and the large number of young people in the congregation as well as the great programs for all ages drew them in. What really made them stay, however, was the excellent choir and wonderful, amiable organist/choir director, John Austin. Their favorite traditions in the years to come became the summer trips to Montreat, mission trips, and the annual labor day retreats at Camp Calvin. Their children grew up in the church, sharing in these traditions and being nurtured in the Emory Presbyterian family. This is probably the reason that they're all so awesome. These relationships and strong ties within the members of the church are why Alice and Bennett are so glad to have chosen Emory Presbyterian as their home, to grow in faith and raise their children.
Member Spotlight … Meet Ray & Mary Greene!
Our initial connection to the church is unusual. Most of the time children follow the parents to a church, but in our case we followed our daughter. Carrie had been a member at Emory for a few years before we began to attend. Our daughter Carrie was married at Emory about 10 years ago and subsequently moved to Decatur. When she found out she was going to have a baby, she asked us to move closer so that we could help take care of their child until he started school.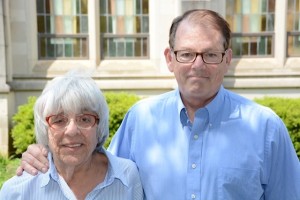 We moved to Tucker and began attending Emory. We didn't join the church right away, but we were active attendees. Pastor Jill asked us why we weren't members, and we thought about it, and finally decided to join the church. Our last church was in the community of Hapeville and was also a small congregation so Emory fit us just fine. We have been members for about five years now, and I guess the major thing that drew us in was the friendly, eclectic congregation. They say, "Variety is the spice of life", and this congregation is nicely spicy. It's just packed with friendly, interesting people.
Mary and I are both participants in the mission committee and work with several of the mission projects. One of my favorites is the MLK weekend project. Yearly, in Decatur, several seniors' homes are selected, and we work on one of those project in conjunction with another church to make life a little more comfortable for a needy senior. The nice thing about this project is that all levels and skills are needed and appreciated. Mary and I both like working with the CHOA Meal Bag Project. All members of the church participate in this project by donating money, food, and time. We make meal bags for parents who are at Children's Healthcare of Atlanta with their children. The meal bags help with expense of staying at the hospital while their children are being treated. Our next project will be the "Mad Houser" project where member of the church work together to complete a temporary home for a homeless person. There are many more ways a person can become involved at Emory. I can truly say Emory Presbyterian is a place where you can serve God and the community and enjoy it.
Member Spotlight … Meet Cliff & Sue Sandell!
Cliff and I were looking for a church in the early 1980's. We are both "preachers' kids," but from different denominations.  Cliff's sister had graduated from Agnes Scott, knew of Emory Church from those days, and recommended it. My aunt, uncle and cousins, the Zimmermans, had been long-time members of EPC, and I had always thought it was a beautiful church. So we decided to give it a try.
The very first Sunday that we attended, I was surprised and thrilled to find that John Austin was the Music Director. I knew John from the year that he directed the Emory Women's Chorale when I was a sophomore, and remembered what a fine musician he was. When John saw that I was present that first Sunday, he urged me to join the choir! Cliff and I had met through our membership in a small choral group, so we both decided to join the choir. Needless to say, we felt very welcome!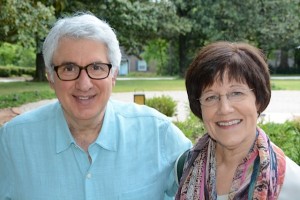 From that Sunday on, the people of Emory Church were friendly and welcoming. Cliff and I decided to "be brave" and come to a Wednesday night supper. We were impressed by how warmly we were greeted and made to feel at home. We also attended Sunday School, and enjoyed both the fellowship and the sharing of faith that we found there. So, both being accustomed to having a church home, we soon made the decision to join EPC.
In 1983, Cliff and I were married in Emory Presbyterian Church. Through the years, our church family have provided loving support through so many "life events," not the least of which was Cliff's years at Columbia Theological Seminary, and his subsequent ordination to the role of hospital and hospice chaplain.  I have served as an Elder, as well as Clerk of Session and chair of the Worship Committee, and both Cliff and I still enjoy singing in the choir.
We have fond memories of all of the people whom we have known and loved at Emory, and we enjoy welcoming and getting to know new people as they discover the energy, commitment and love of this wonderful church family.
Member Spotlight … Meet Carolyn Olive!
How I Found the Church
I first visited EPC in the summer of 2000. My children were invited to vacation bible school by the Butker family. My oldest son enjoyed the middle school youth group, attended several functions over the course of the summer, and went with them to a middle-school youth conference in Tennessee. He came home inspired, asking to be baptized and join the church. Church had not been a part of my adult life, so I insisted we slow down, attend for a while and see exactly what we were getting into. I wondered about mandatory statements of faith I would have to assert, and doctrines and attitudes towards "outsiders" that my children would be taught. My children discovered a warm welcome, Sunday School classes and activities they looked forward to attending. I discovered intelligent preaching, good music, interesting educational opportunities, and a genuine openness to ideas and wrestling with questions of faith.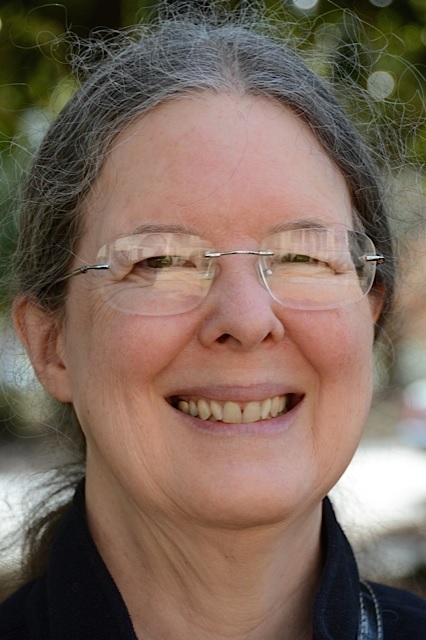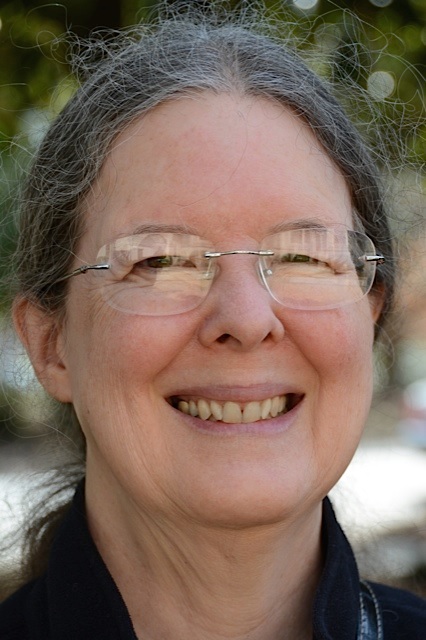 Why I joined
My son attended that fall's confirmation class and joined the church in December. I waited another nine years, attending regularly, teaching children's Sunday School, participating in youth and adult mission projects, educational and social activities. I still had a lingering concern that a hidden fundamentalist agenda would be revealed. A few years ago, EPC went through a time of financial and membership crisis. I finally realized that EPC was serious about welcoming people "wherever they are on their spiritual journey", and that it was time to commit and stand as a member.
Why I am Glad I Joined
The preaching, music, and openness that initially attracted me are still there. Over time, we have also developed a more outward focus, with mission projects like cooking and serving at the Clifton Men's shelter, building an annual Mad Houser's Hut, taking responsibility for a house (or two) during Decatur's annual MLK Day Service Project, marching in the Pride parade, and participating in the Haiti Eco-Village project; inter-church and interfaith partnerships; and activities to engage the community, like the Wine and Wisdom lecture series, and the Fall Bluegrass Festival.
Member Spotlight … Meet Sally Fleming!
How I found the church…
When I moved to Atlanta in 1988, I was determined to put down roots.  I had moved for work 5 times in the previous 15 years and was ready for some permanency in my life.  One of my top priorities was finding a church.   I traveled frequently at that time so on weekends when I was in town, I visited several churches but never felt that they were where I should be. Because I worked close, I drove by EPC many times and was always drawn  to "that pretty little church".  One Easter, my cousin came to visit and we decided to attend church and I suggested that we visit EPC since I seemed to be drawn to it.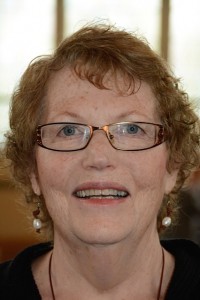 Why I joined…..
From the moment I walked in to EPC that Easter, there was no question that is where I was supposed to be.  I attended a reception for potential new members and liked the  members but there was no one thing that caused me to join except the sense of peace that I had each time I walked into the sanctuary.
Why I am glad that I joined…..
It did not take me long to get involved and begin getting to know the members.  Once the pastor, at the time, learned I was a fund raiser by profession, I, quickly, found myself on the Stewardship Committee and have served there on and off since joining EPC.  I have been active in most aspects of the church but serving those in need through our mission work calls to me the most.   Having participated in several of the Mission trips to Belize and New Orleans has had the greatest impact on my faith and working side by side with the other participants has also enriched my relationship with my church family.  Emory, over time, has truly become my extended family.
Member Spotlight … Meet Anita Darden!
Why I Joined Emory Presbyterian Church and Am Glad I Did
HOW I FOUND EMORY PRESBYTERIAN
I had always known about Emory Presbyterian, having dearly beloved friends and neighbors that had attended throughout the four decades that I lived in Atlanta. Then, about a decade ago I moved to the Druid Hills neighborhood from north Atlanta. Part of getting settled into my new neighborhood those first few years was finding a local church. With that in mind, I looked at large and small churches of several protestant denominations in the nearby area.
I made a point to stop by at Emory because I saw a sign advertising something about Rain Barrels. A church that took "Earth Care" seriously was one I wanted to check into.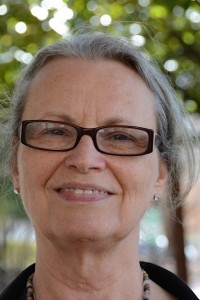 WHY I CHOSE EMORY PRESBYTERIAN
When I visited Emory Presbyterian I think I knew almost immediately that this was the church for me. I recognized Jill Evans from when she was Jill Oglesby, substitute pastoring a church I had attended years ago.  I remember sitting in her office back then, admiring the art work she had on her walls – some of which she had done herself!
I went to several Emory Pres church gatherings – including Sunday School – talked with various members and went to church meetings. After visiting a few more churches, I was certain that I wanted to make Emory Presbyterian my home.
WHY I AM GLAD THAT I BELONG TO EMORY PRESBYTERIAN
Since joining Emory Presbyterian Church, I have found and continue to find that there is much to make me glad that I am a member of this church.
I love the traditional building, the classic music, the liturgical services, and the intelligent discourse about our faith both past and present.
I was especially surprised to find I enjoyed the liturgical outline of sermons that guide the church to visit certain Biblical texts and stages of Christ's life and teaching at certain times of the year. The advent and Christmas in the darkening of winter, lent and resurrection in the height of spring are a few liturgical events that are especially meaningful.
I attend Sunday School, Wine and Wisdom, Church Book Club, Centering Prayer and other activities as often as I can to keep nurturing my soul life. These are just a few of the activities of the church, I wish I could attend them all!
When I asked one of the members what she liked about the church, she said that it was like a little village, a pocket of friendly people in a large metropolis. Others say they like the open heart and open arms of this urban church. This is true. It is a place of community, continuity, and spiritual comfort.
Most of all I am glad that I belong to Emory Presbyterian Church because the hunger that we have for the supernatural, the yearning for the God we cannot live without, the healing that is set free in a relationship with Christ, and the gift of the indwelling Holy Spirit, the courageous walk of the saints – that is all nurtured here at Emory Presbyterian Church.
Member Spotlight … Meet Scott Grosse!
I moved from Ann Arbor, Michigan, to the Atlanta area in August 1996 with my wife, Debbie, and our two young children, Robert and Anne. We had been active in Presbyterian churches and were looking for a new church home. We found that PCUSA congregations here seemed to be more formal than we were used to. I did not want to feel out of place for not wearing a necktie! We were looking for a caring community, with good preaching, high quality music, and a flexible children's program.
Realizing that there many PCUSA churches, and not wanting to drag two young children to new churches each week, I picked several I had not yet visited and called to find information to narrow the search. That was in 1996, before most churches had web pages, let alone social media. Emory made the list, even though we had to drive past two other PCUSA churches to get there. Someone in our neighborhood had recommended that we check out "the little church with a great music program."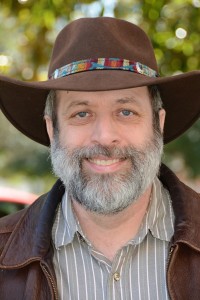 When I called, the Rev. Joe Crawford answered. I asked about his vision for small group ministry. In our previous churches, we had found community through small groups. Joe responded enthusiastically (he was good at that) and told me that that expanding small groups was his priority for EPC.  He mentioned the Tuesday morning men's breakfast group that he had started with a few other men. He asked us to come in two Sundays, since most of the congregation would be away the next week on the annual Labor Day retreat. We did so and were impressed with how friendly and inviting people were. That first Sunday we were invited to lunch and Deb was invited to help paint animals on the walls of the hallway downstairs. We soon became EPC members. Search over.
I have been part of the men's breakfast group since 1996. We meet Tuesdays at 6:45 am and share food and fellowship, taking turns bringing breakfast. Over the years, we varied where we met, but as the group grew in size (now 12 regular members) we decided to meet at the church. I'm also an active participant in the Adult Sunday School class that meets in the Session room at roughly 9:45 am and usually discusses one or two of the day's lectionary texts—no homework required!
Tony and I are permanent outdoor greeters on Sunday mornings; I've been doing this for more than 10 years. We're always looking for others who would like to fill in for us as needed.
I also find opportunities to volunteer through our church, including the MLK Jr weekend, CHOA meal bags, and participating in a partnership that is working to build a sustainable, community-run school in rural Haiti. I'm on the board of Villa International, an ecumenical ministry on Clifton Road that provides housing and hospitality to international visitors to the CDC, Emory. Villa is always looking for new volunteers who can take Villa guests on shopping or sightseeing trips or just hang out and have cross-cultural conversations.
Member Spotlight … Meet Richmond Stubbs!
I don't remember the exact timeline of events. The first time I came back to EPC, I couldn't see the hymn book or anyone else. I was blind. The second time I came back was a communion service and when I went to dip the bread in the cup, I couldn't see the cup. About this time
I was getting pretty discouraged. All this occurred after I had rededicated my life to Jesus Christ as my Lord and Savior.
After some time had passed … The Lord came to me in my thoughts one day, and I asked him: "Lord, if you would give me back my vision, I'd sing in one of Your Choirs."
And He said to me in my thoughts: "OK, I'll Set It Up."
After a little time had passed, I had an appointment at the Grady Eye Clinic at Grady hospital. They informed me at that time that my right eye had scar tissue in the middle of the eye and was not salvageable. But the left eye was! I could actually see again with the left eye from the first shot … I've received 21 shots in the left eye since that time.
Now, I didn't just jump right up and go sing in one God's Choirs … I had to be reminded of what I asked for and promised to do. Yes, He came into my thoughts several times until finally I contacted Jill and invited her to lunch under the guise of talking about the cross I carved honoring my father. The truth is, I really wanted check her out to see if she loved The Lord Jesus. We had wonderful time of fellowship together, and as she was leaving I told her about that promise that I made to God about singing in one of His Choirs.
She laughed and said: "Ok, I'll set it up!"
After my first Wednesday practice, Paige said: "You're singing on Sunday!"
I rarely miss Sunday worship because it's the greatest treasure of my life.
*Editor's Note: Also see this article on Richmond's art installation at Lutheran Towers!:*
Richmond Article 1 of 2
Richmond Article 2 of 2
– Richmond Stubbs
Member Spotlight … Meet Courtney Fetters!
I was born in Waterloo, Iowa, but I can't really call myself a Yankee.  I spent most of my childhood in McDonough, Georgia, where I grew up in and out of various churches, and I was baptized when I was seventeen.  I had decided to dedicate my life to Christ several years earlier in middle school – and I had also decided from a young age that I wanted to be an English teacher.  My education helped me reach my spiritual and professional goals, first at Eagle's Landing High School, then at Berry College in Rome, Georgia, where I received a major in English and a minor in Secondary Education.
While I was at Berry, I experienced significant spiritual growth.  During my years there, I identified primarily as Pentecostal.  I was part of an on-campus group called MORE Ministries and became the Women's Ministry coordinator.  One Sunday evening, I even preached a sermon to a chapel full of my peers!  Also while at Berry, I received a great education, from fantastic professors I continue to keep in touch with today.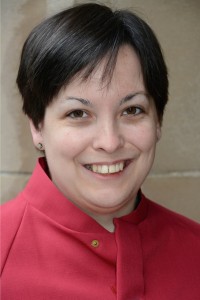 My life has continued to grow since my years at Berry.  After graduating cum laude, I secured a job as an English and ESOL teacher at Meadowcreek High School in Norcross.  I worked there for one year before moving to Fayette County, where I've worked as an English teacher at Whitewater High School for ten years.
I started attending Emory Presbyterian Church in 2010, when I came with a friend.  Though I've always lived on the South side of town, I haven't been able to keep myself from coming to EPC since then.  I began getting involved in small ways, first in groups such as the chancel choir, then found myself engaging in more and more activities. I became a member in 2012.  Two years ago, I became a Ruling Elder, and I continue to serve on Session; as chair of the Outreach committee; and most recently, as a member of the Generosity Team.   What brought me to EPC years ago is what keeps me going now: a congregation that gives to its community and to the larger world; a group of people who truly love and accept each other because of who they are and not who they want each other to be; and worship that includes varied, heartfelt music and messages that inspire and engage.
Even in the years that I have attended EPC, my life has grown and changed.  I now work for EPC as Communications Coordinator, I sing and serve as Alto 2 section leader of the Atlanta Women's Chorus, and I am in a wonderful and fulfilling relationship. I am who I am now because of many people, places, and events in my life – and I would be lying if I said EPC was not one of those places that has helped shape me to become the woman I am.  I am so excited about continuing to learn and grow with our church community!
Member Spotlight … Meet Truette & Brenda Stubbs!
Truette was born in Emory Hospital, attended Emory Presbyterian Church, Druid Hills High and graduated from Emory University.  Truette's family attended EPC when it was held on the Emory campus and lunch was in the cafeteria.  Tom and Bea were active members for the rest of their lives.
He lived in a house on E. Clifton with a difficult yard and a father with gardening plans who insisted Truette participate.  Anne Baird lives in the house today and can still see his pain in the concrete patio.
Truette married while a student at Emory and after graduation moved to New Orleans to work for Whitney National Bank until he returned to Atlanta with First National Bank. Truette has three daughters Robin, Julie and Sarah and one son Truette, Jr. There are nine grandchildren.  The first marriage ended after fourteen years.
He resigned from First National in 1973 and started the real-estate partnership, which he is still involved today.  He hopes to retire someday soon.
I was born in Birmingham, Alabama, have two older brothers and attended Woodlawn Methodist Church.  I attended Athens College, married, moved to Atlanta in 1972 and worked at First National Bank until I married Truette.
We married in 1978, and lived in the lake house built by Tom and Bea.  That house became the vacation spot for our families and friends.  In the Summer of 1981, Sarah, the younger (15) daughter came to live with us.  We decided we should give her a home and school in a quieter location.  Truette was soon employed by Callaway Gardens in Pine Mountain Georgia, to be V. P. of Real Estate Development for the Mountain Creek Villas and Cottages.  We moved to another wonderful home in a peaceful place and Sally went to Brookstone in Columbus, Georgia. She eventually went to Georgia and now teaches high school art near Pensacola.
We were there for almost seven years still enjoying lots of company and social activities connected with Callaway.  The Roosevelt State Park was our next door neighbor and we would drive the mountain road across the park to Dowels Knob and picnic just like F.D.R.  In fact, our house was built in 1933 for the man in charge of the W.P.A. people of Pine Mountain Valley and it is surely known that FDR spent some suppers in my dining room!
Truette resigned from Callaway in '87 and returned to the Bennett Street Partnership in Atlanta. We continued to live in Pine Mountain and Atlanta and in 1989 I started working for Designer Antiques on Bennett Street, which eventually led to opening Estes-Stubbs Antiques.   We got tired and closed three years later and I moved on to interior decorating until 2008.   I now call my business Bennett Street Reflections and will see its direction soon.
Truette has become an Elder, die hard member of the Men's Prayer Breakfast and is group leader for Centering Prayer which meets on Thursdays at 7:30.  I've just completed my first month as usher and think I've got it now.
It is a good feeling to be where you belong.
– Brenda Stubbs
Member Spotlight … Meet Anne Baird!
When I first visited Emory Presbyterian Church, my husband, our young toddler son, and I walked from our home, the fifth house on the left up North Decatur Road. I wore a cute little red pillbox from my appropriately appointed hat collection. We had moved to Atlanta from Fort Benning, Georgia, and were looking for a church to attend while we finished our doctorate degrees at Emory. The plan was to visit EPC first, since it was the closest, then try other nearby churches, of which there were many; as Dekalb was then the fastest growing county in the nation, full of young church-affiliated families.
At our first visit, we were very much impressed by the harmonious blend of the choir and the beautiful, worshipful sanctuary; and we felt at home with the really nice, welcoming congregation. But we absolutely were in love with minister. For us he was a gifted preacher with a kind voice, a loving heart, a fun spirit, and a commitment to social justice.  We joined Emory Presbyterian the February before our daughter Heather was born in December. My husband joined the choir and we became highly engaged in the life of the church. We never got around to visiting the other churches on our list, and I never wore my little red hat again, since I was the sole person wearing one the first time we visited.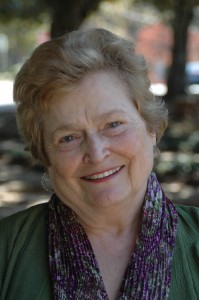 My three children and two of my grandchildren grew up in this church, being loved and cared about by the congregation, and taught our faith through word and example. When our church baptizes a child, the congregation is asked to respond to a series of questions about our willingness to help raise the child in accordance with the Christian faith. Not only do the members follow through with this commitment, but they truly love the children of the church and they show it.
I will name some of the other things that I like most about our church.  I am still impressed by the quality and vigor of our choir, even more so now than when we first joined EPC, and I am charmed by Paige's talent as a director. What a joy to hear these voices come together to lead our worship services.
I am grateful for the quality of the sermons that Jill prepares, her awesome delivery, for the ways that God often uses her sermons in my life, and for her ministry to our congregation and the community. Those who have had occasion to be hospitalized or have surgery know that she is an expert at negotiating hospitals and surgical centers.
Our church has always looked upward to God and outward to our community.  I like the many ways our church engages in outreach to the community, with the accompanying occasions to serve.  I like the opportunities we have to grow spiritually through prayer and bible study, and through other meaningful time together.
I appreciate the way that we celebrate each other's joyous occasions and the loving fellowship that abounds among our members. I like the way that we look out for each other and provide for when someone is sick, experiences a death of a family member, or faces other difficult circumstances. I am amazed at the love and concern that our members show for each other and for our support of each other though prayer.
In thinking about what Emory Presbyterian means to me, I have recalled the many amazing people I have known here through the years, and how grateful I am for them. At the same time, I rejoice in the new friendships and anticipate new joys and blessings at our church.
Member Spotlight … Meet Gene & Jamie Beck!
Gene is originally from Long Beach, CA and Jamie is from Jacksonville, FL. Both have lived in Atlanta since the early 1980's and they live near North DeKalb mall in Country Squire.
Gene attended Auburn University where he was an art major. He is a Realtor with Atlanta Communities working in residential home sales. He has been an active volunteer in the community and is currently on the board of Springbrook Park and Clyde Shepherd Nature preserve.
Jamie went to University of North Florida where she was a history major. After living a couple of years in New York she moved to Atlanta. She was a stay at home mother for a few years and then got her paralegal certificate and currently works for the U.S. Attorney's Office as a paralegal where she works with Sue Sandel, a member of the choir who invited Jamie to visit at Emory Presbyterian.
We met each other 10 years ago on E-harmony. We hit it off right away as we were both single parents raising boys. We love hiking and traveling, especially to the National Parks. We love the old music standards and a favorite night out is at the piano bar at Maggianos.  Jamie also loves ballroom dancing but Gene has two left feet!
We come from different religious backgrounds but have always been in tune spiritually which is one thing that attracted us to each other. Jamie grew up in the Methodist and Baptist churches of her two family sides.  Gene had both a Jewish and Christian family side but neither side was active at all.  Jamie was drawn to Emory Presbyterian by its willingness to approach faith with an open and progressive attitude amidst the comforts of traditional hymns and liturgy.   The Modern Day Saint Series and the Beyond Series, and the congregations' reaction to those progressive sermons, were important factors in her decision to join Emory Presbyterian.  For Gene it was the openness of the Wine and Wisdom series as it reached out to other religions and science.   We have felt welcomed and comfortable from our first visit as we have gotten to know the people and staff at Emory.
Member Spotlight … Meet Amy, Marty, Olivia & Mason Moore!
Amy was born in the small town of Pickens, SC in 1975. She grew up in the Southern Baptist church, attending pretty much whenever the doors were open. She has many fond memories of Vacation Bible School in the summers, Girls in Action (GA's), and youth mission trips. Another formative experience during Amy's youth was when her family moved in with her maternal grandmother to take care of her after her grandfather passed away. Amy attended Furman University in Greenville, SC, where she majored in Biology. After graduating college, Amy received her PhD in Microbiology and Immunology from Wake Forest University School of Medicine, where she trained as a virologist. As a graduate student, Amy attended a Presbyterian church in Winston-Salem, NC with several of her friends.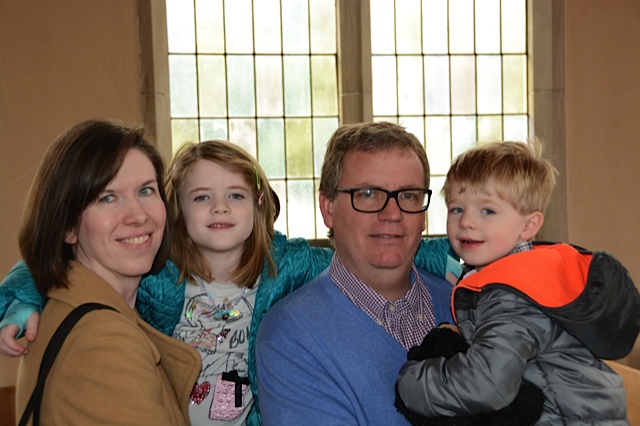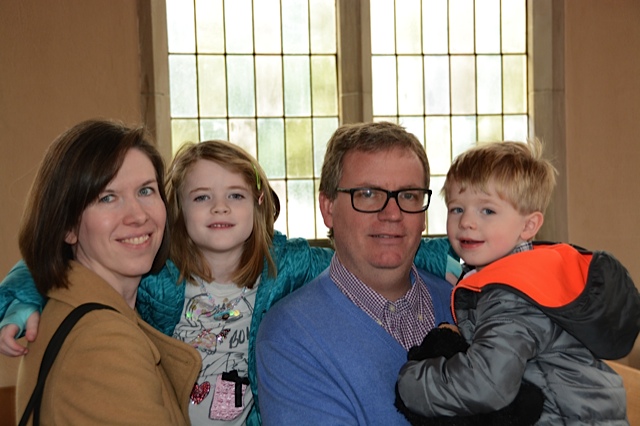 Marty was born in Statesboro, GA in 1971 and grew up on Saint Simons Island, GA. In high school, he worked the night shift on weekends, summers, and holidays as a nursing home orderly and loved listening to the residents tell stories. He attended the University of Georgia from 1990 – 1995 and was a quiet kid who studied a lot. In 1994, fuelled by a desire to write and expand experiences, he dropped out of college and rode freight trains across the Western US, spending about four months of that time homeless in Seattle. After reality set in, he made his way back east and re-enrolled at UGA to complete his degree in biology, working as a K-Mart cashier after class. After college, he worked for three years as a laboratory technician at the Brunswick, GA hospital. In 1998, he enrolled in the Genetics PhD program at UGA and began training in viral genetics and molecular biology.
In 2000, Amy and Marty met at a DNA tumor virus conference in Madison, Wisconsin. At that conference, they walked by a wedding shop with bride and groom mannequins in the window and Marty said, "That will be us one day." Amy and Marty dated long distance until getting married in 2002. That year, Marty's advisor's lab moved to the University of Michigan Medical School in Ann Arbor, where he completed his PhD. Upon completing her PhD in December 2002, Amy joined Marty in Ann Arbor. After a cold winter, Amy and Marty returned south and moved to Nashville, TN, where they both did five-year postdoctoral fellowships at Vanderbilt University School of Medicine. While they attended several different churches in Nashville, the fact that they would soon move again kept them from putting down roots.
Amy and Marty moved to Decatur in 2008. Marty joined the Emory faculty and started his laboratory in Pediatric Infectious Diseases, developing genetically engineered viruses as pediatric vaccines. Amy is the Director of Research Programs for the Georgia Research Alliance, a non-profit organization that helps recruit top scientists across Georgia's research universities and commercialize discoveries coming out of their labs. She also holds an adjunct position in Biology at Georgia State University.
Amy and Marty were blessed with the arrival of their daughter, Olivia London Moore, in 2009 and their son, Mason Chastain Moore, in 2011. After trying several different churches, a work colleague told Marty about Emory Presbyterian Church. They visited and appreciated the small size, friendly members, and intellectually-stimulating environment. They joined EPC in 2010 and have become active in various church activities, including teaching Sunday School, the annual fall festival, and outreach. Marty was also elected as an Elder in 2014.
Member Spotlight … Meet Doug Craig!
In 1950, age 16, my parents purchased their first home on Clifton Road. I was then a member of Decatur Presbyterian Church.
Each day I observed a new church under construction. It was Emory Presbyterian. One Sunday in 1951, I visited Emory. There was a large and active young adult class, about twelve in all, and everyone was close to my age. Sundays were filled with activity: Sunday school, evening gatherings at someone's home, summer camps and other events.
I felt welcomed. I made new friends. Everyone had a good time. My center of Christian activity became Emory Presbyterian Church and still is.
As an adult, I am an Elder, was a Deacon and an Usher. I am now the senior regular attending member of the Men's Prayer Breakfast. And, especially important to me, my daughter held a surprise 80th birthday party in the EPC Fellowship Hall for me recently that was attended by so many.
Member Spotlight … Meet Emilliana Kweyu!
My name is Emilliana Kweyu. I came to learn about EPC when I was a student at Emory University's Candler School of Theology. EPC hosted the Kwanza African Christian fellowship which started on 11/22/2006 and had their meetings in the Fellowship Hall every Sunday at 1:00 pm. I was with this group until it dissolved on 8/20/2011. After this fellowship ended, my family joined the main church as official members in 2011.
I joined this church because of the warm reception from Pastor Jill that I had received when I interacted with her a couple times. She is a very caring, loving, and a warm-hearted person. I had young children and I wanted them to fellowship here. In October 2008, I was employed by this church as a nursery worker and have continued in that position to the present time.
I am glad that I joined this church because my children have grown up physically, mentally, emotionally, and spiritually participating in the church's activities and community outreach projects. Personally, I have enjoyed the warm fellowship of the members, and I have cared for some of their children for over six years. For me and my family, EPC is my second home away from my native country Kenya.
Member Spotlight … Meet Barbara Hornsby!
My name is Barbara Hornsby, and I have been a member of Emory Presbyterian Church for about five years. My husband and I moved from Alabama to Tucker, Georgia in 2008 to live with our daughter, Kathryn. Kathryn was already an active member of Emory Presbyterian Church, and we had visited the church on several occasions prior to our move. We found the people of Emory Presbyterian Church to be a friendly, welcoming, caring, compassionate, and mission-minded group of Christian people. We visited two other churches briefly but always found our way back to Emory. In my husband's time of illness, the people of Emory were very kind and supportive. The pastor, Jill Oglesby Evans, was a great source of comfort in the hospital as well as at our home. After my husband passed away, the church became my lifeline, inviting me to participate in various activities. The Presbyterian Women Circle became a great source of comfort and friendship, and I truly believe that the encouragement and care I received helped me through a very difficult time.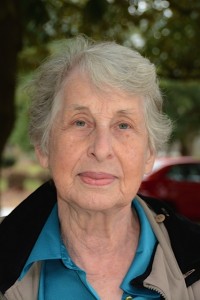 Having attended a small Presbyterian church during my childhood and teenage years, I was familiar with Presbyterian practices. My father was a long time Presbyterian elder. He carried me in his arms on the two mile walk to church when I was too young to make the trip by foot. However, I met my future husband, who was an active Baptist, at Howard College (now Samford University) in Birmingham. We were married in 1956, and lived in Alabama, Texas, Oregon, Alabama again, Florida, and back to Alabama. In all these years, we were members of a Baptist Church and served in various ways, usually teaching and mission activities. After our last move to Alabama, my husband served as Director of Social Services at the Alabama Baptist Children's Home for more than thirty years. We lived in the same house for forty years. I worked at Troy State University for almost nineteen years before retiring at the same time as my husband.
I joined Emory Presbyterian Church for the reasons mentioned in the first paragraph. Not only is the church building beautiful, but the people who make up the church family are a beautiful example of God's love being shared with others. I enjoy all the parts of the worship service; the sermons are enlightening, encouraging, thought-provoking at times, and always filled with a message of love; and the music is always beautiful. The greeters outside the church give a warm welcome to everyone, and the ushers are always helpful. The fellowship time on the lawn after church is a wonderful time to meet and share with the members as well as visitors. It is very true, "There's Room for Everyone," at Emory Presbyterian Church. I have benefited greatly through participation in Presbyterian Women, C is for Caring, and various mission activities. One of the greatest benefits is a group of loving, caring friends who have become my extended family. Thanks be to God.
Member Spotlight … Meet Tony Trauring!
I'm Tony Trauring. You see me in the parking lot most Sunday mornings, waving and talking to everyone. I sit on the church Finance Committee, and I chair the Internship Committee. I like being part of the life of Emory Presbyterian Church.
I discovered EPC four and a half years ago. I had a job I disliked, with a very long commute. Plus I was lonely. There was a lack of emotional satisfaction. I researched area churches to find a traditional Wednesday Night Supper I could attend. All of them had Wednesday Night Suppers back then, but most began at 5:30 PM. There was no way I could get to the church on time.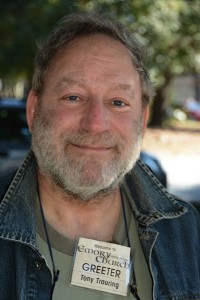 Except for one. Emory Presbyterian Church hosted its Wednesday Night Supper at six o'clock. Eureka!
Except for weddings and funerals I had not been in a house of worship for lots and lots and lots of years. I didn't know what to expect, but I RSVPed by email, and Heather emailed me back. People were friendly. They acted as if they were glad to meet me. I told Jill that I was looking for "wholesome fellowship." She said she wasn't sure how wholesome it was, but that EPC offered lots of fellowship.
In June the Wednesday Night Supper program went on summer hiatus. I survived a week without the fellowship I had come looking for, and then decided to attend worship so I could keep up these new, enjoyable friendships.
A couple of years passed, with Jill's obligatory semi-annual nudge toward joining. What led me to become a member of EPC was a sermon and a churchwide lunch, where we had to come to grips with ugly financials. There were whispers about us being three or four years from being padlocked, and some conversations about combining with a nearby church.
It scared me. I felt accepted and liked by these people, but it might go away? Oh Noooooo! So I went to Jill's office to tell her I was ready to join and she fell over. This really happened.
The threat to our church alarmed a lot of people, not just me. The fact that this building and pastors and members and visitors were in danger of being stopped mattered to all of us, and it's something that made me feel even more connected. This group of (as Jill would say) goofballs saw the same problem, acted on it, and righted our church finances.
Stumbling on this church is about the best thing I've done. My hopes have been rewarded, with wholesome fellowship.
One thing leads to another, and now I read liturgy when Jill schedules me, and I prepare communion a few times.
I love this church. Yes, the building is a wonderful gothic structure, but it's really the combination of all these people that makes it a church. It is my main social community.
Member Spotlight … Meet Melissa Miller!
Born and raised in South Carolina, I grew up in the Methodist and Southern Baptist church. It was my adoptive mother who was my first music teacher. I would stand in on the pew in the choir loft and she would show me the hymnal and how to read while we sang. Music has always been a very important part of my life, regardless of circumstances. I accepted Jesus Christ when I was ten and was baptized in the Southern Baptist church. I sang in the adult choir and youth choir as well. I spent my teenage years singing in several a cappella groups and two groups that traveled to churches all over the state.
After my mother died, I struggled with the church and my place in it. I continued to go sporadically, mostly to perform in choirs and as a soloist. After high school, Iwas working on a Criminal Justice degree when I became a police officer for the City of Columbia and worked there for six years. I left the force and went back to school, earning a degree in Music Education at Lander University. I went on to receive a Master's in Music Education from the University of South Carolina in 1998. While in graduate school I had the privilege of attending Providence Presbyterian Church in West Columbia, serving as a paid soloist.
For many years I have been a spiritual "wanderer". I didn't feel lost; I still had a personal relationship with God and considered myself a Christian. However, I was disappointed with organized religion and honestly thought I would never be a part of a church again. The members of EPC have been warm and welcoming! You are a church that is open to people of all walks and I am drawn to that. I admire your spirit and that your commitment to issues of social change and equality. Thank you for accepting me. I am home at EPC!
Member Spotlight … Meet Nick and Lauren Coppola!
We are excited to be members of Emory Presbyterian Church and to get to know you all better! Here is some information about us.
Nick is from Wayne, NJ. He attended the University of Delaware majoring in Finance. Nick grew up playing ice hockey and now enjoys playing in a men's league in Duluth. He also enjoys traveling, hiking and listening to a wide variety of live music whenever possible. Lauren is from Atlanta, GA. She attended the College of Charleston and majored in Biology. Lauren is an avid runner and has participated in the Cooper River Bridge Run 10K in Charleston for the past several years. She also enjoys painting and drawing.
Our northern and southern paths fatefully crossed at Wake Forest University when we both enrolled in their full-time MBA program. We got engaged just before graduation, and moved to Nashville, TN when Nick accepted a job offer at Thompson Research Group, an institutional equity research firm. Shortly after our move, Lauren accepted a position at HealthStream, a healthcare IT company. We thoroughly enjoyed our years in Nashville and would be happy to provide recommendations of things to do and places to eat for anyone wanting advice when visiting this fun city!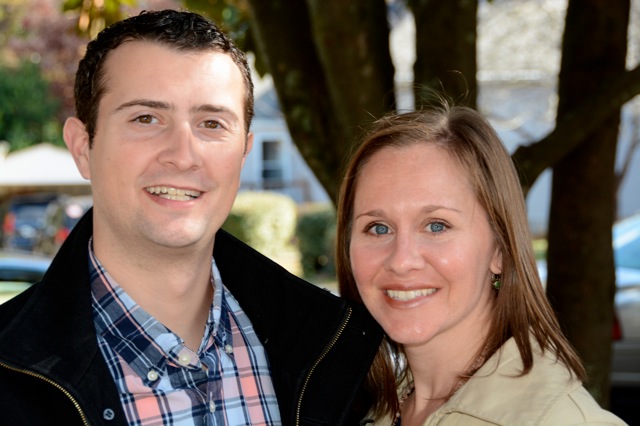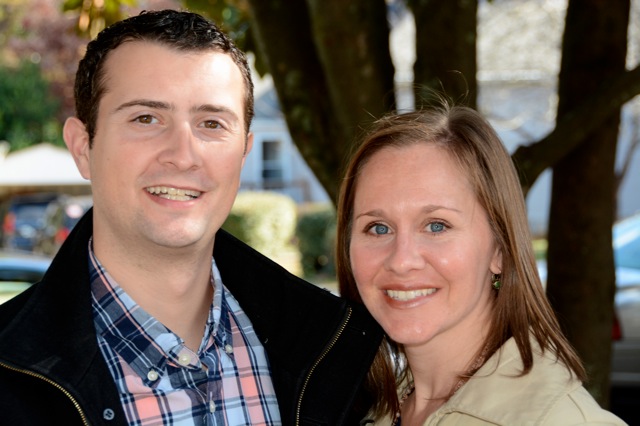 We moved to Atlanta in February 2014 when Lauren accepted a job offer with Elsevier, a healthcare publishing company. Luckily, Thompson Research Group agreed to let Nick work remotely in Atlanta. Nick used the majority of our first few months in Atlanta to study for Level III of the Chartered Financial Analyst exam which he took and passed in June. While adjusting to a new job and spending countless hours preparing for a major exam, we also attended a number of different churches in various areas of the city to find our new "church home." Once we determined which neighborhood we wanted to live in, we began trying out churches in that area. This is what first brought us to Emory Presbyterian Church – it is just a block from our house.
We decided to join Emory Presbyterian for a number of reasons. And not only proximity. From our very first Sunday, we felt welcome and were inspired by Jill's sermon. We also liked the size of the church, which for us creates a more personal experience. When we returned for a second time, we learned about the first Wine & Wisdom series – two things that we are highly interested in. As we began interacting with members of the congregation either before or after service, or at the Wine & Wisdom events, we realized that the congregation is a very diverse group composed of interesting and intellectually curious individuals. We are so glad that you have invited us to call Emory Presbyterian our church home!